YUN – they frame differently
EYEWEAR MADE IN 20 MINUTES
Dad and daughter, Jiyoon und CJ, are the masterminds behind YUN. A term that stands for: glasses, a unique store concept and - created with these ingredients- a very special brand, also for their last name.
But that's just one thing the Korean power-duo has in common. What they built in Berlin's Rosenthaler Str. 11 (10119 Berlin) is not just another eyewear brand. What they created is a futuristic concept of how to make real "ready-to-wear" pieces – customized and ready to pick up after 20 minutes of manufacturing them in their very own in-store lab.
THE BASICS FIRST:
Jiyoon und CJ work together on YUN Berlin – he is the technician with a history of knowledge, she the designer and fashion girl. He brings in years-long experience of producing and , she the style attitude and trend approach. A perfect base to build a brand, as daughter Jiyoon says: "For me, I knew that when I wanted to create a fashion brand it had to be something with a long history or heritage. So I was thinking I could use his knowledge to create a brand and also respect what my dad had done in the past – so that's why I started this project together with him."
Founded in 2015, YUN Berlin is a store with its own in-store lab, where you can not just choose your favourite frame and the glasses' colour but where everything's produced instantly and therefore ready for you to wear in just 20 minutes.
Jiyoon described to us how that works
"So first, if we want to produce prescription glasses, we need to know the data of our client. Which means we do this measurements right here in the back of the shop – a eyesight test. Once we've done that, we have the data saved in our system, which allows us to get to them at any time – also in future."
"Other opticians, after having the eye measurement, have to order the right lenses – we have all of them (we have around 12 0000 lenses) stocked in the shop. Ordering costs time and also money. We completely skip this process with our system."
"After that we put the frame in our in-store lab (editor's note: a digital lens cutting system), which is located visible for all the costumers at the front of our store – the lenses are put inside and the computer cuts them into the right shape. After that our opticians place them into the frame and control everything – and by then the glasses are ready to take away."
So besides regular ready to buy-sunglasses (without prescription), 150 combinations of glasses are available at YUN – between 40-45 frames in total, with each between 1-3 combinations of colours and material, and on top of that you can decide if you want to use them as sun glasses or as an optical frame.
Furthermore there are 18 different lens colours available, which makes the variation of the final frame even higher and more individual. This possibility allows YUN to really customize their frames. Even though that lens choice takes a little longer than usual, as the coloured ones have to be ordered with prescription measurements, if needed. So for example for prescription sunglasses.
"We do all we can to make the process of buying new frames as quick as possible, but this option limits even our storage possibility (smiles) ...this is why we need to order them"
Apart form this great new production concept, YUN Berlin also sticks out with a very special passion for design and trends. The store has a back space that's used a contemporary showroom for art exhibitions and also the collections of frames reflect the latest trend standards on the market.
"The designs are done by me and my dad only. Since I worked as a fashion designer I know how to create something. In this case maybe the product is a different one, but the layout is similar to what I was doing before," explains Jiyoon. "First I get the inspiration – almost from everywhere – and I do research like looking up the newest collections and then I try to search for the newest materials and colours that are coming up. So coming from this the first sketches are made, with which I go to the factories. Then they give me feedback on these ideas so we can develop the whole collection strategy."
"In general I would say the round shades are the biggest thing right now. Bold and made out of acetate."
We, the team of Bird's Never Bored, were allowed to try that special shopping experience and we were more than happy with the result. That's why we want to make sure you feel the same.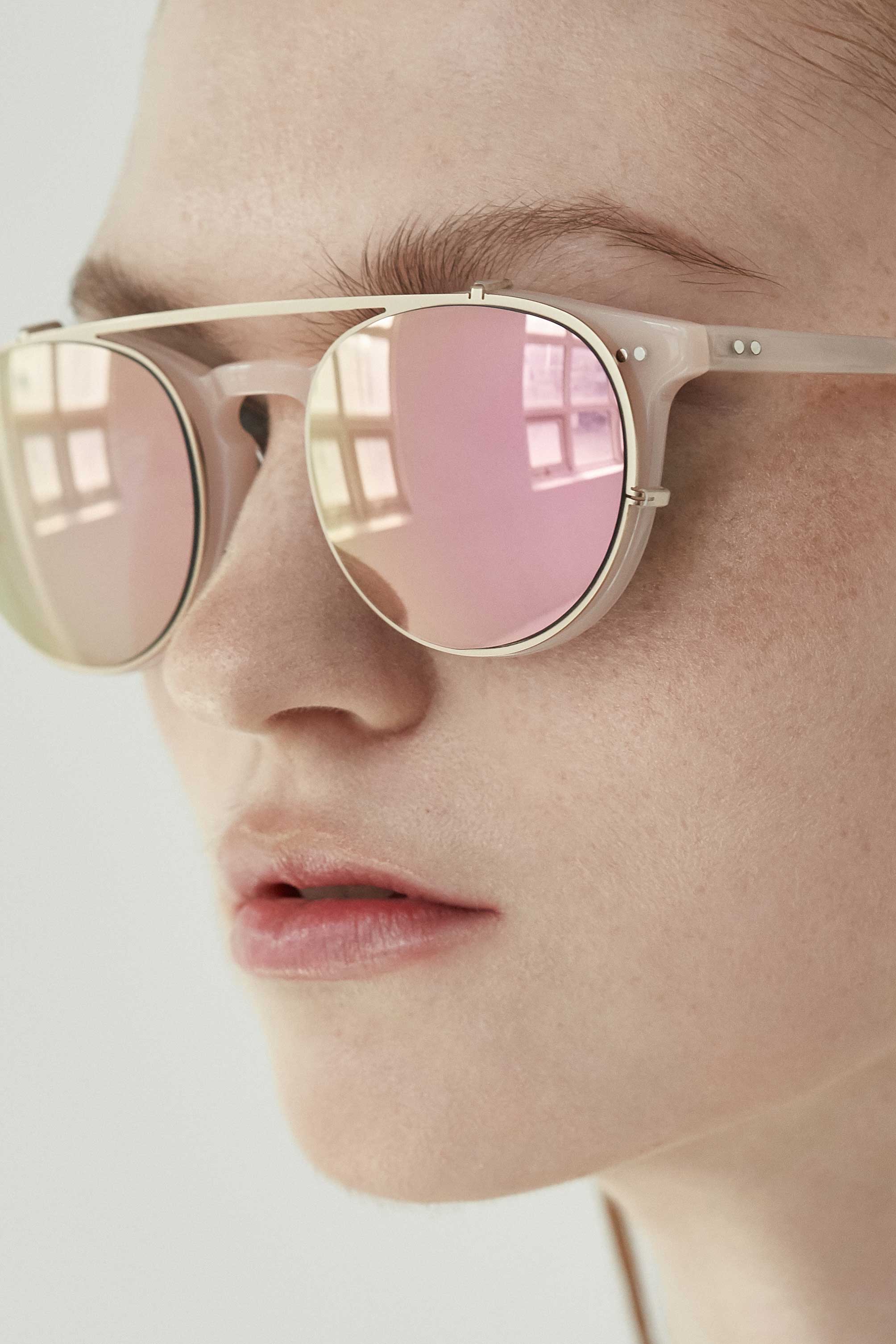 Our Style Advice for you …
Take your time, choose one of the beautiful glasses in the store. Make sure you are well rested when you have to measure your eyes for prescription lenses and then ...yeah, 20 minutes after the lenses are put into the cool in-store lab, your very own are ready for you to wear.
The best comes in the end ...As this system allows to save time, it also saves money, which means that the price of your complete glasses adds up to either € 99,– or € 149,– maximum.
The word BOHO is Korean for "security".
At YUN it means protecting your eyes from the blue light coming from monitors and smartphones. These special rays of light are highly irritating for the human body and especially for the eyes.
The YUN BOHO PC series is created exactly for this demand – the new created layer, which is made by a special coating on the lenses, blocks the blue rays and hence protect the eyes from this bad impact.