With Adam Contreras from L.A to BERLIN
Talking fashion and the launch of Supra's anniversary sneaker, the Skytop V:
From packing boxes of SUPRA shoes to creating the iconic sneakers himself: Adam Contreras is a designer who works hand in hand with Chad Muska, the skate soul of the popular brand. In celebration of Supra's 10 year anniversary, the SKYTOP V was recently presented in Berlin. Before the launch (and after-party), we were invited to talk with Adam about his newest creation. What we found was more than a fashionable skater boy - Adam is a young ambitious man, who is set on achieving within the wider scope of the Sneaker Industry.
Here he shares his inspirational vision on design:
It is the 5th Skytop, but also the anniversary sneaker of Supra. Big shoes to fill… so what is the most iconic element about this special shoe?
I think it's about taking all ideas - from the 1st to the 4th edition of the sneaker - into the design - which is based on comfort and style. We tried to combine all the things we loved most about the four shoes and put it into one cohesive design.
The skate legend Chad Muska was always involved in the creation of the Supra sneakers. So you have been working with him to also create this shoe. How does this creative progress look like in a team of two?
You would think it's hard, but actually it's pretty easy. We are very much on one page the entire time. It took a while to get the final design, but it was a nice process. We went back and forth, talking about shoes and the history of shoes. It was a more natural conversation considering questions like "where is the industry going?" or "where do we want go as a company". We are both creative types, so even when it was 3am in the morning we called each other and went through stuff.
How does it work to finally put the design together?
I mean, yes sure we worked with sketches, but it's more of a kind of development process. Obviously we started with a few rough ideas and the more we got into it, the more evident that it was meant to be a new way of skate shoe we wanted to create here. So we started with the aesthetic of a running shoe but we wanted it to function as a skate shoe.
The skate legend and the new SKYTOP V by SUPRA
How long have you been working on the model?
I think it took almost two years …
What is the most innovative thing about the Skytop V?
Like I said before, when you first pick it up, you think it's a running shoe, but the more and more you dive into it, you see it was meant to be a skate shoe. We have used a few new unique materials in it, like coated mesh for example, because it's more robust when you skate. We also wanted to incorporate this history of Supra into the shoe, but still have a wow-factor that has never been there before.
Did you have a design vision you wanted to realize with the Skytop V?
No, I think it was more about modernizing the skate shoe industry. I know everybody can skate in Vans or a pair of Chucks, so as running shoes are coming more onto the scene, we wanted to turn this trend into a skate shoe.
You are interested in art and design - which kind of art are you interested in the most?
I think what I'm into it the most is architecture. I love to take architectural elements like shape and form and then to try to incorporate them into a shoe. You can see it also in this shoe: it's made out of layers, starting with a basic shoe, which is almost like a sock and then it's layered with other materials, which are almost like a cage to protect the foot.
Is there any artist or designer, you would describe as your personal role model?
I don't think I have really have one specific person in mind. I'm moving on as fast as the world is. Everything is so quick. So this is also the reason why you get stuck when you say this is "your" thing. It's more about progression - looking towards the next thing and level.
What do you think about this fashion-sports trend in general?
I definitely don't think it's going to leave any time soon. It's just the beginning.
Would you describe yourself more as a fashion person or as a skater?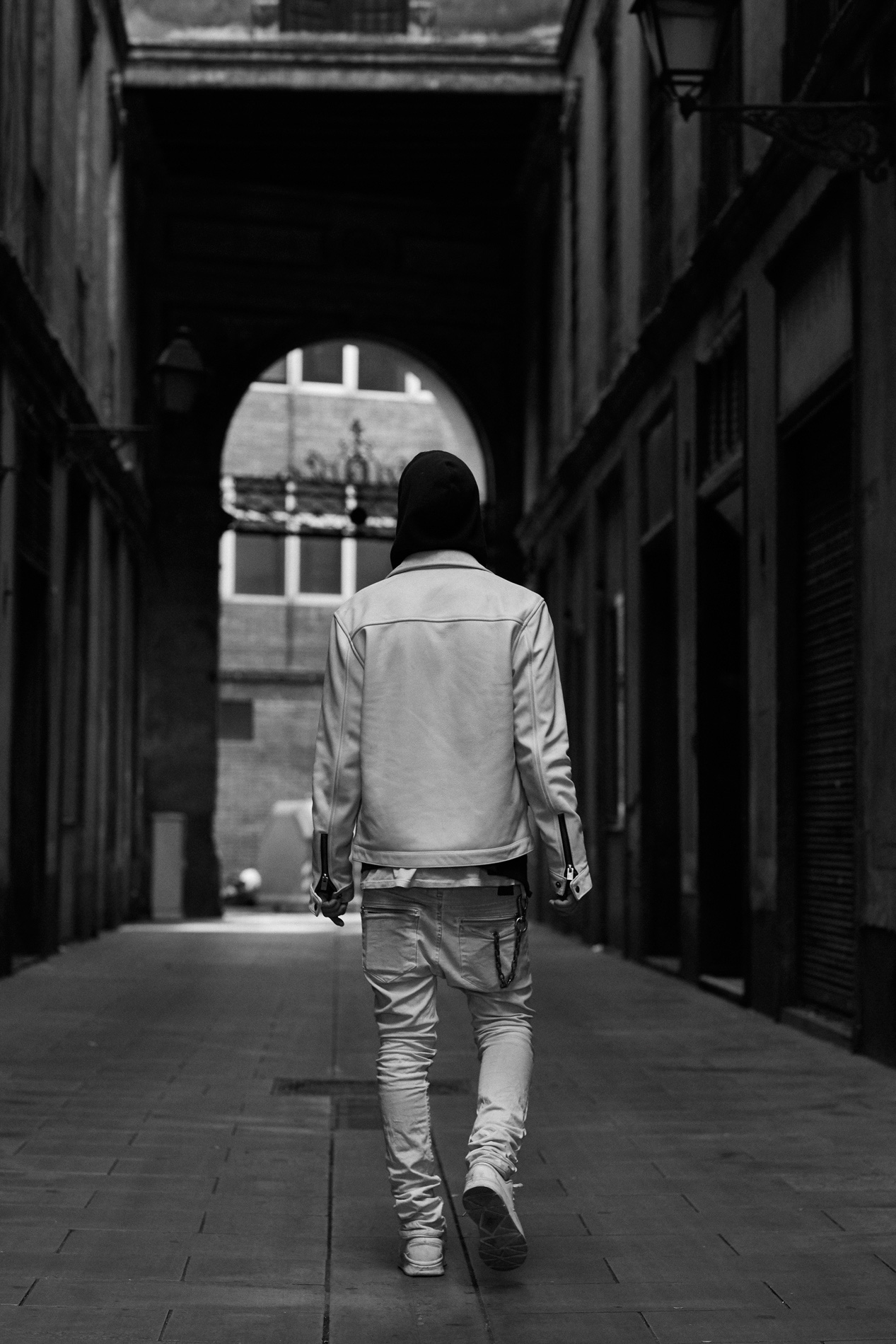 I'm definitely more fashion, I come from this world. But I'm taking cues from skateboarding - kind of the underground scene. I was born in the early eighties, and grew up with skateboarding. I based my style around it.
Besides shoes, what is your favorite fashion label?
I really like Rick Owens and I love the clean line by A.P.C., but I kind of pick fashion up from everywhere …so it's hard to answer with just one favourite.
...thank you for the interview.